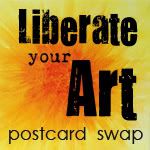 Last week I was browsing through the many wonderful blogs who join in with
Paint Party Friday
and I came across Kat Sloma's blog,
Kat Eye View
and an intriguing project she has come up with.
The aim is to get at least 200 participants, to include artists of all mediums, who will print 5 of their artworks onto postcards. Each postcard should then have a handwritten message which can be an insirational quote, a greeting or a note of encouragement; basically something which, along with your artwork, will brighten the day of the recipient.
All 5 postcards will then be sent back to Kat in America in July. Kat will then swap the postcards around, sending 5 individual postcards, all from a different artist, back to each participant over the course of a few weeks.
There will be a list of participants on Kat's blog so we can all learn more about each other and where in the world we all are and then in August we'll do a blog hop with a link up where we can share blog posts about the art we send out and the art we receive in return.
I think this is a great idea and am excited to be part of a project where I can discover new artists and likeminded folk from, potentially, all over the world.
Now I just need to decide which of my pieces I am going to print onto the postcards. What do you think - the
Walkies
series perhaps or some of my
pointy pet portraits
?