Sketch 71 of 75
Tomorrow is my dad's birthday (happy 79th, Dad!) and it also sees the start of the Summer of Colour challenge kindly hosted by Kristin over at Twinkle Twinkle Like a Star blog. Last year each week over 6 weeks we had to get creative (any medium/art/craft) using a colour combination inspired by ice cream flavours. That's how how my Doodimals came into being.
This year, Kristin has set up a selection of colour combinations which the participants get to vote on - each week the most popular colour combo wins.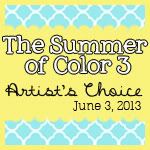 I'm toying with the idea of creating some more Doodimals as I had a lot of fun with them last year. Or perhaps the colour combinations could be the perfect way to decide what colour paint to spatter over the Big Skies, Little Planet illustrations? I'll wait and see what the colour choice is tomorrow and decide from there.
Anyway, today is Sunday Sketches and I'm on the home stretch as far as the 75 day sketch challenge is concerned, you'll be pleased to know. As I already posted day 75 during Reuben-gate, then after today there are only 3 more to show you - then I'll have to start getting more productive as I'll have nothing left in reserve!